Ditch the To-Do list. Manage clearly defined Projects, Actions, Contexts and Areas with
Projectlot
B-Folders for Android

THIS IS ARCHIVED CONTENT ABOUT AN OLD VERSION
B-Folders 2 with sync is available now
Go to B-Folders 2 for Android
B-Folders is designed to securely store and organize your business and personal information in folders - like in a safe. You can store notes with trade secrets, passwords, credit cards, contacts etc.
Uses of B-Folders
store reference info organized in a hierarchy of categories

jot notes with ideas, tasks etc.
keep a diary/journal

brainstorm in a mind mapping way

keep lists of tasks, shopping lists etc.

keep track of projects and sub-projects with planning notes, list of tasks and related materials
Key features
fully encrypted database with strong, password-based 256-bit AES algorithm

store different types of items a hierarchy of folders
organize your data by moving items between folders and reordering items in folders
auto-close database

search by type and text

back up and restore - the reserve copy is kept on the SD memory card
export to a CSV text file - in case you want to import you data in other application

Security measures

We take the security of your data seriously:
256-bit AES encryption - a standard for strong government-grade encryption

we use a custom database engine to encrypt every bit of your data (the database engine that ships with Android does not allow to encrypt all the data - i.e. indexes, meta-data etc.)
we use the open-source encryption library Bouncy Castle instead of Android encryption library to provide protection against possible backdoor installed by the operator or device manufacturer

Screenshots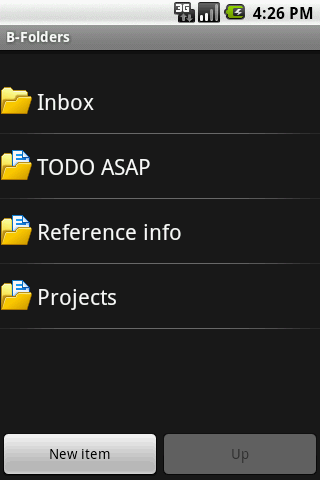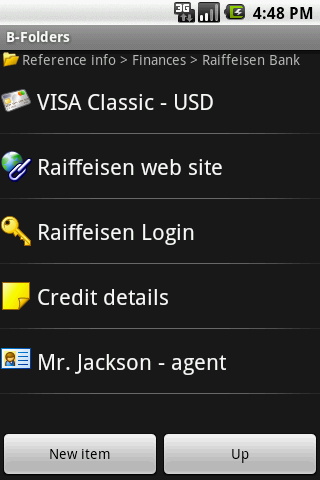 More screenshots
B-Folders desktop version

B-Folders is available for your desktop or laptop as well, so you can sync with multiple computers. Read more

Help
What's new in the latest version

export to a CSV text file
Availability
B-Folders software is available on Android Market.
Requires: Android 1.5

Current version: 1.4.0
You can also download latest version.