Ditch the To-Do list. Manage clearly defined Projects, Actions, Contexts and Areas with
Projectlot
Secure client management on all your devices
You always need to have your client data handy whether you are at the office, traveling, at a client's site, at home, or even on vacation. This allows you to promptly and thoroughly respond to client requests or emergencies. In order to achieve this level of mobility comfortably, you are most likely using a combination of different devices: desktop, laptop, smartphone, and tablet. B-Folders not only handles this difficult task of keeping all of your data in sync and secure on all your devices – it makes it easy.
Protecting client data

Protecting your client data is a matter of ethics and in many cases required by law. B-Folders offers a level of security for your sensitive data beyond traditional measures (anti-virus, firewall and full-disk/device encryption software) by encrypting your data without exposing it to other applications.
With growing privacy concerns about cloud computing, security-conscious users are looking for non-cloud solutions to manage their private data. B-Folders is designed from the ground up to keep, organize, and sync sensitive information across mobile devices and personal computers without a central server.
Organizing client data

B-Folders is also excellent for organizing data. The tree-like folder structure allows you to group "by client" different kinds of information like contacts, tasks, requirements, meeting notes, activity journals, as well as reference information like IDs and passwords. Organizing information by client allows you to gain focus and efficiency when working on a particular account by seeing only what is related to that client. No need to switch between different applications or panels to look for the tasks or notes that are relevant. All the information related to that account is in the client folder.

This image will give you an idea of how you can organize a large amount of client-related information in an efficient way: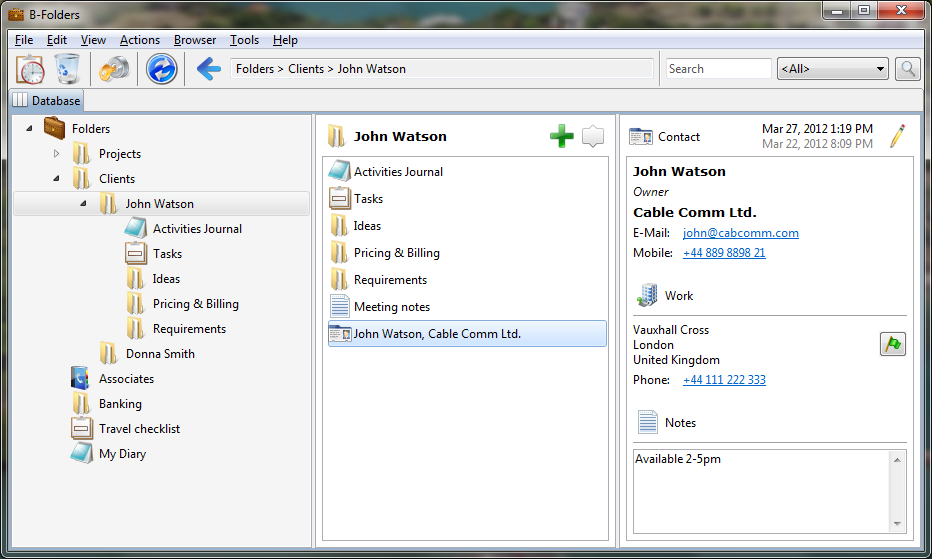 Learn more